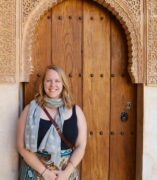 Kirsten Almberg
Center Director
About
I have a very long and rich history with UIC, going back to 2006 bringing a very strong and firm commitment to social justice and really an anti-racist approach to work and labor. I look forward to learning more about each of our partners and the work that you do to help support the mission and vision of the Center.
At the School of Public Health I have been the Assistant Director of Research and Evaluation, responsible for managing and executing epidemiologic studies of occupational lung diseases both nationally and internationally. My work includes analyses of coal workers' pneumoconiosis, progressive massive fibrosis, and other coal mine dust lung diseases among coal miners regionally, nationally, and internationally. Specifically, focusing on linking state and national databases that contain health information on U.S. coal miners to more fully understand the development and progression of disease, including factors most associated with developing disease.
My research to this point has been very classic occupational epidemiological research on coal miners and dust exposed worker and how to produce science that is sound evidence for policy change to protect those workers. Research toward scientific evidence to bolster policy. I bring years of epidemiologic experience around multiple state and national projects and look forward to helping to lead the efforts of the Center through increased visibility, increased impact and collaboration and really grow the research portfolio and other opportunities to utilize this group of individuals to change all work to be healthy work.