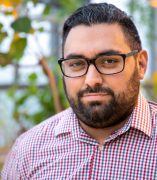 Rolando Favela
Research Associate II
Outreach Coordinator
About
Rolando, a Chicago native, grew up in Back of the Yards and Archer Heights on the Southwest side of the city. A child of immigrant parents from Mexico, he has a strong work ethic that has been cultivated through his labor union worker father. Throughout his childhood, Rolando witnessed the inequities that faced his local community in the industrial corridor.
Rolando first began studying Horticulture at the City Colleges of Chicago at Harold Washington before completing his bachelor's and master's degrees at DePaul University in Environmental Science. While attending DePaul, Rolando worked as a Research Assistant on environmental issues and managed the university's greenhouse. His dedication to bringing environmental equity to the southwest side continued outside of his research through his volunteer work with community organizations that seek to break down the barriers that southwest communities face. Rolando has collaborated with the Chicago Park District and local sponsors to install Little Libraries in multiple parks in an effort to increase the community's presence at local parks while also promoting literacy.
Rolando has two small children. Together with his wife, they are raising their children to care for and appreciate the world around them. He and his family continue to live on the Southwest side and hope to create future environmentalists that will continue to carry on the ideals of global stewardship.