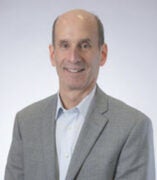 Bruce Sherman, MD, FCCP, FACOEM
Co-Investigator
About
Bruce Sherman, MD, FCCP, FACOEM, is a medical director at Triad HealthCare Network/Cone Health in Greensboro, NC, where he provides clinical and strategic support for the employee health plan and broader organizational strategic planning, with the goal of implementing integrated, data-driven approaches to optimize individual and population-level health and well-being. Dr. Sherman also serves as medical director for the North Carolina Business Group on Health. Dr. Sherman has ongoing research interests in the areas of equitable employer health benefits strategies, disparities in care, and the business value of investments in workforce health, and has authored more than 125 publications.
Previously, he served as the consulting corporate medical director for Wal-Mart Stores, Inc., Whirlpool Corporation, and The Goodyear Tire & Rubber Company, as well as for RightOpt, the Xerox/Conduent private insurance exchange offering for self-insured employers.
Dr. Sherman received his MD from NYU School of Medicine, his MA from Harvard and his ScB from Brown. He is a member of the clinical faculty at Case Western Reserve University School of Medicine, and serves as an adjunct professor in the department of Public Health Education at the University of North Carolina – Greensboro.