Healthy Work Collaborative
Addressing Precarious Work through Social Change
Healthy Communities through Healthy Work (HCHW) is building evidence to make work healthier for those in precarious jobs, through diverse partnerships aimed at facilitating policy, systems, and environmental change initiatives. HCHW conducted a year-long mixed methods action research qualitative study that highlighted public health and healthcare organizations' limited knowledge and action surrounding precarious work, and a lack of collaboration between health and labor organizations despite recognition that work is a key social determinant of health.
Addressing Precarious Work through Social Change
Hosted at the UIC School of Public Health, the Healthy Work Collaborative invited public health and health care organizations to engage with labor, government, and non-profit organizations in a collaborative learning experience. Eight teams of multi-sectoral partners participated in the six-session exploratory process.
Representatives from the labor sector provided technical assistance and facilitated training on Power Mapping, Theory of Change, and Action Planning to help these organizations define precarious work and build organizational capacity to create change. Through this process, the HWC teams:
Developed an understanding of precarious work and pathways to healthier work
Explored how policy, systems, and environmental changes can improve health in the context of precarious employment
Built intersectoral networks to further social change
Prepared deliverables, detailed work plans, and recommendations for initiatives
Addressing Precarious Work through Social Change
In fall 2018, HCHW offered participating teams mini grants up to $10,000 to implement their action plans. HCHW awarded a total of $67,900 in funding. At the end of this implementation phase, each team produced case studies and dissemination projects, in addition to evaluation results, to help build the evidence for addressing precarious work.
To support Healthy Work Collaborative teams in implementing their initiatives, HCHW provided a series of in-person and online trainings to continue to foster partnerships, and build knowledge and capacity to address precarious work.
To access public trainings provided to Healthy Work Collaborative teams, please click here.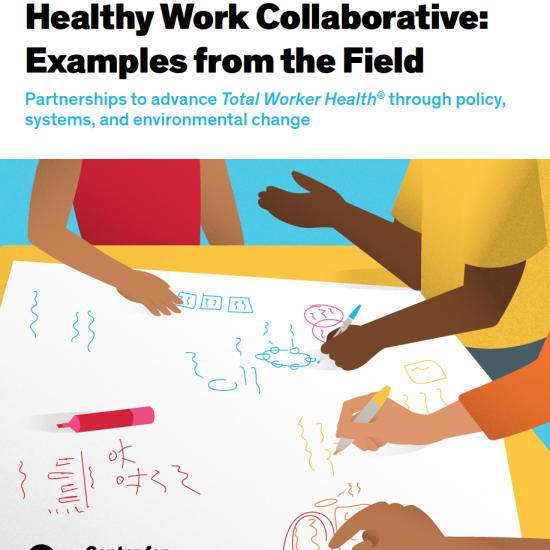 Healthy Work Collaborative: Examples from the Field
The purpose of this document is to present case studies describing each team's efforts over the course of the Healthy Work Collaborative. Each case study describes the issue the team hoped to address (Recognizing the Need), why each organization chose their particular approach (Starting the Conversation), how the collaboration functioned and interacted (Building Relationships), what the collaboration accomplished (Gaining Momentum), challenges and opportunities gleaned from the experience (Lessons Learned), and what each team hopes to accomplish in the future (Looking Ahead).
Our hope is that these case studies will inspire similar efforts across the country, increasing our national capacity to make healthy work a reality for all workers.
Click here to view the Healthy Work Collaborative case studies.