Greater Lawndale Healthy Work Project
Greater Lawndale Healthy Work Project At a Glance
Building off of nearly 10 years of academic-community collaboration, the Greater Lawndale Healthy Work (GLHW) Project from the University of Illinois at Chicago Center for Healthy Work, a Center of Excellence for Total Worker Health, launched in 2016 a partnership with the Greater Lawndale community to better understand how work impacts community health and to identify community solutions to promote worker health.
Greater Lawndale Healthy Work Activities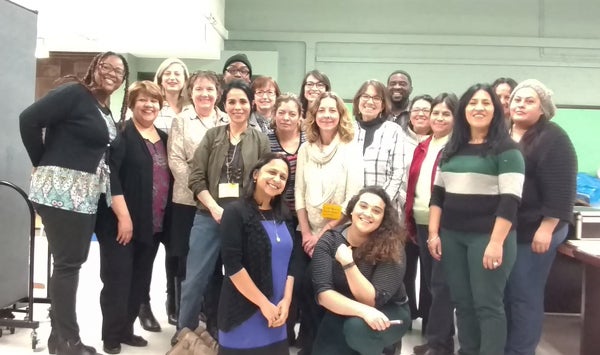 The GLHW Project partners with the Greater Lawndale community, two respective neighborhoods situated on the southwest side of Chicago, North Lawndale and Little Village, to:
Explore community-level approaches for improving residents' health at work
Build community capacity for recognizing worker health as community health
Develop community-based interventions that expand residents' access to healthy jobs
The GLHW team is comprised of North Lawndale and Little Village residents, community organizations, worker centers, UIC faculty, staff, and students.  Utilizing a  community-based participatory research approach, the GLHW Team employs qualitative and quantitative research methods to create community-centered, academic-supported and student-engaged efforts to create shared knowledge about health in Greater Lawndale.
Greater Lawndale Healthy Work Project photos