Greater Lawndale Healthy Work Project
Greater Lawndale Healthy Work Project At a Glance
The Greater Lawndale Healthy Work Project will partner with Chicago neighborhoods experiencing high rates of job insecurity to:
Explore community-level approaches for improving residents' health at work
Build community capacity for recognizing worker health as community health
Develop community-based interventions that expand residents' access to healthy jobs
Concept Mapping
138 community residents participated in concept mapping with the Greater Lawndale Healthy Work project

80 community residents participated in focus groups

500 community residents were surveyed about the impact of work on their health
Greater Lawndale Healthy Work Activities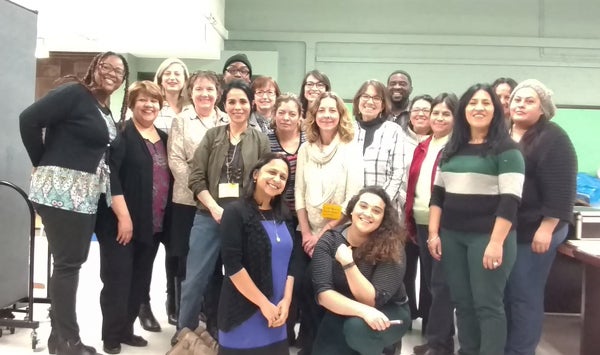 The Center for Healthy Work's Greater Lawndale Healthy Work (GLHW) participatory research project is deeply engaged in Chicago's North Lawndale and Little Village neighborhoods to characterize the experiences of community members who engage in precarious work in the Greater Lawndale neighborhood and to identify community interventions to promote worker health.
The GLHW team is using a participatory, mixed methods community health assessment approach, which includes a community health survey, focus groups, interviews and concept mapping (a visual display of community members' ideas and priorities) to gain an understanding of community needs. GLHW community member research partners have reached 80% of their goal to administer the 116-item community health survey to 500 residents about the type and nature of their work, their working conditions, their ability to exercise workplace rights, and the impact of work on their health. In addition to the survey, team members have also conducted 12 focus groups with neighborhood residents and facilitated concept mapping with nearly 300 residents in the last two years. Focus group and concept mapping findings were later presented to residents at community meetings and validated by them. Community members provided important insight as to how the initial findings could be presented and disseminated to the community at large in meaningful ways.
Findings from focus groups, concept mapping and the community health surveys will guide the next phase of the project—intervention mapping– a process to develop community centered, theory and evidenced based interventions mapped to community needs. Ultimately, the GLHW team aims to help community groups recognize worker health as community health, address worker health in ongoing community health efforts, and create new Total Worker Health interventions.
At each step of the way GLHW is committed to meaningful outreach efforts. Team members often participate in community events to introduce the work of the project and to learn about community concerns. A recent example: team members distributed project materials and Center for Healthy Work lunch boxes at a Day of the Dead event in Little Village.